Roy Brewster Sensei (on left) with Ron Bratton Sensei
Roy started Judo in 1963 and is not prepared to discuss his age. He first joined the Slough Judo Club and trained with Paddy Sullivan Sensei and in 1964 he joined the Masutaro Otani Society of Judo (M.O.S.J.) and trained at the 61 Club in Amersham with Don Elliott Sensei. Roy ran the club for a while after Elliott Sensei moved out of the area.
Roy then assisted the late Lou Jenkins Sensei of Chalfont Judo Club for many years and ran Kyu Shin Ryu for three years while the late Alan Carter Sensei was working in Canada.
When Jenkins Sensei closed his club Roy decided to open the Chalfont Judokwai in 1976 at the Chalfont Leisure Centre where it has remained until this day. In 1983 Roy opened a second branch at the Evreham Sports Centre in Iver.
Roy also taught Judo at the Chorleywood Girls School for the Blind. Once a month he would bring a minibus full of these students to the Chalfont club where they would throw the Chalfont students all over the place (to their considerable embarrassment). The reason? Because they relied upon their other senses to guide them.
Roy also studied Ju Jitsu in which he gained Black belt 1st Dan. As a consequence, he is qualified to provide weapons training in the use of Tonfa's, Sai, Nunchaku, Bo and Jo staff, Tanto and of course, the Katana. However, as a purely self defence system with techniques that do not allow a competitive element, Roy decided to concentrate on his Judo.
In March of 2008 Roy was graded to 4th Dan thereby becoming the highest grade in the county. He is qualified to teach seven out of the eight Kodokan Kata's. Roy also holds qualifications in BJC Judo Refereeing and is registered as a Martial Arts Commission Coach. Roy has received his training from Matsutaro Otani Sensei Kodakan 8th Dan and Akanori Hosaka Sensei 8th Dan Kodokan amongst others.
Roy in the Newspapers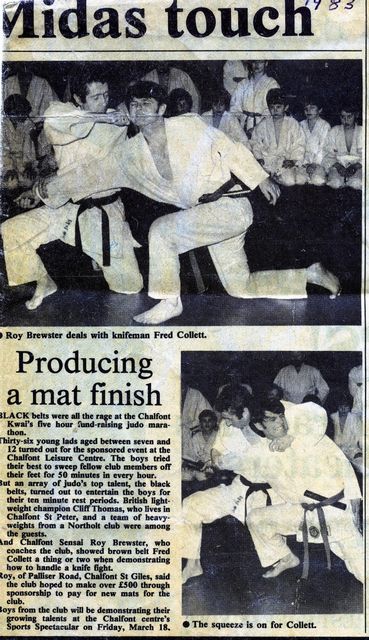 Chalfont Judokwai and Roy appeared in the local papers on many occasions due to the continued success of the club. Here is an article from 1983.
In early 2011 Roy travelled to Japan for the first time and visited the Kodakan, Nihon University and many other places of historical and Judo interest. Here is a picture of Roy dressed as a Samurai relaxing at this home.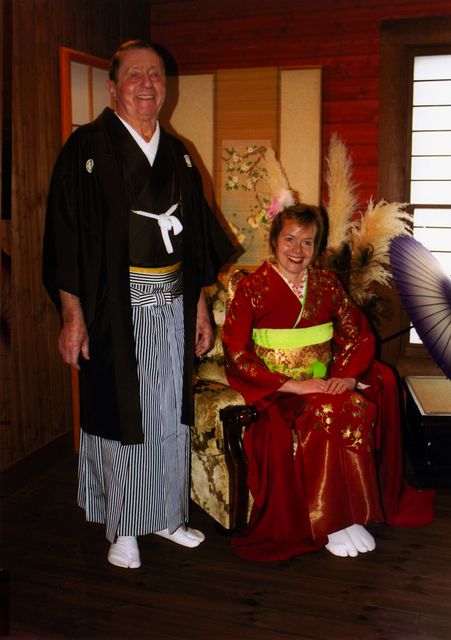 In early 2013 Roy became an octogenarian. Shrugging off the years, he is still on the mat twice a week every week coaching children and adults alike in the sport and marital art that he loves. On the 2nd March 2013 Roy was shortlisted for the British Judo Council 'Lifetime Achievement of the Year' award. Attending the awards dinner he was surprised to have 'Happy Birthday' sung by all and sundry and declared 'there is another decade in me yet'. Something to which we all applaud.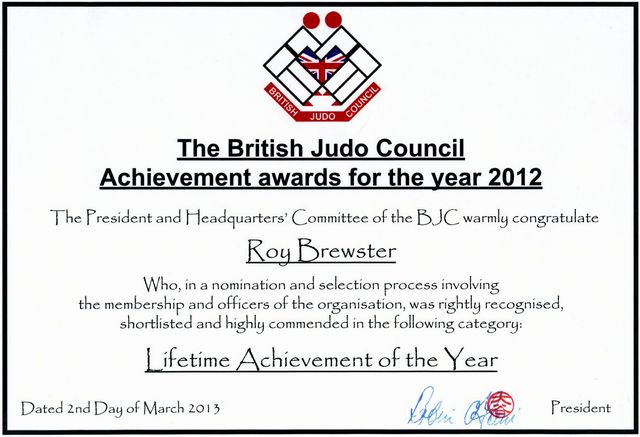 | | | |
| --- | --- | --- |
| 80 years deserves a celebration | Roy and Molly with her Special Achievment Award | Roy with Robin Otani, President of the BJC |